Please note that all our rooms are subject to legal maximum occupancy numbers. Please choose the room that will accommodate your whole party. Alpine Retreat Mt Buller reserves the right to charge for extra persons not declared over and above the maximum occupancy stipulated for each room type on arrival.
Alpine Rooms
In the day's of the old ski clubs everyone would bunk in together. These days we understand that everyone likes their privacy but our comfortable Alpine rooms help to keep the ski club spirit alive...
Motel-style rooms sleeping 4 to 6 guests
All Alpine rooms benefit from:
an ensuite shower and toilet
a fridge
tea & coffee making facilities
luggage storage
a flat screen TV with HDMI and USB connections - just bring your hard drive!
SNOW HOLIDAY EXTRAS:
Linen, towels and soap are provided.
All Alpine Retreat guests enjoy a continental buffet breakfast each morning, served in the Dolomiti Italiano restaurant.
Sleeps 5 (max 4 adults)
1 x triple bunk (a single over a double)
1 x set of single bunk beds
Alpine rooms for 5 come at no extra cost, so families of 5 or 4 single adults can enjoy a great value Mt Buller holiday, each from their own separate bed (we'll let you argue over who gets the double!).
Sleeps 6
1 x double bed
1 x set of single bunk beds
2 x single beds on mezzanine floor
Mezzanine rooms are based on an old European chalet style which incorporates an open sleeping loft above a room, accessed by a ladder. Alpine Retreat mezzanine rooms can accommodate up to 6 guests across the two floors, with a double bed and a single set of bunks on the ground floor and two single beds on the mezzanine.
Bunk Room with Shared Bathroom
Sleep 4
2 x sets of single bunk beds
Shared bathroom located across the corridor
If you're looking for a low budget way to enjoy the Mt Buller snow and don't mind sharing a bathroom, then our bunk room could be the perfect option for you. Sleeping up to 4 guests (adults or children) in two sets of single bunks, this room is slightly smaller than the rest but still features all our other amenities including a fridge, tea & coffee making facilities, luggage storage and a TV.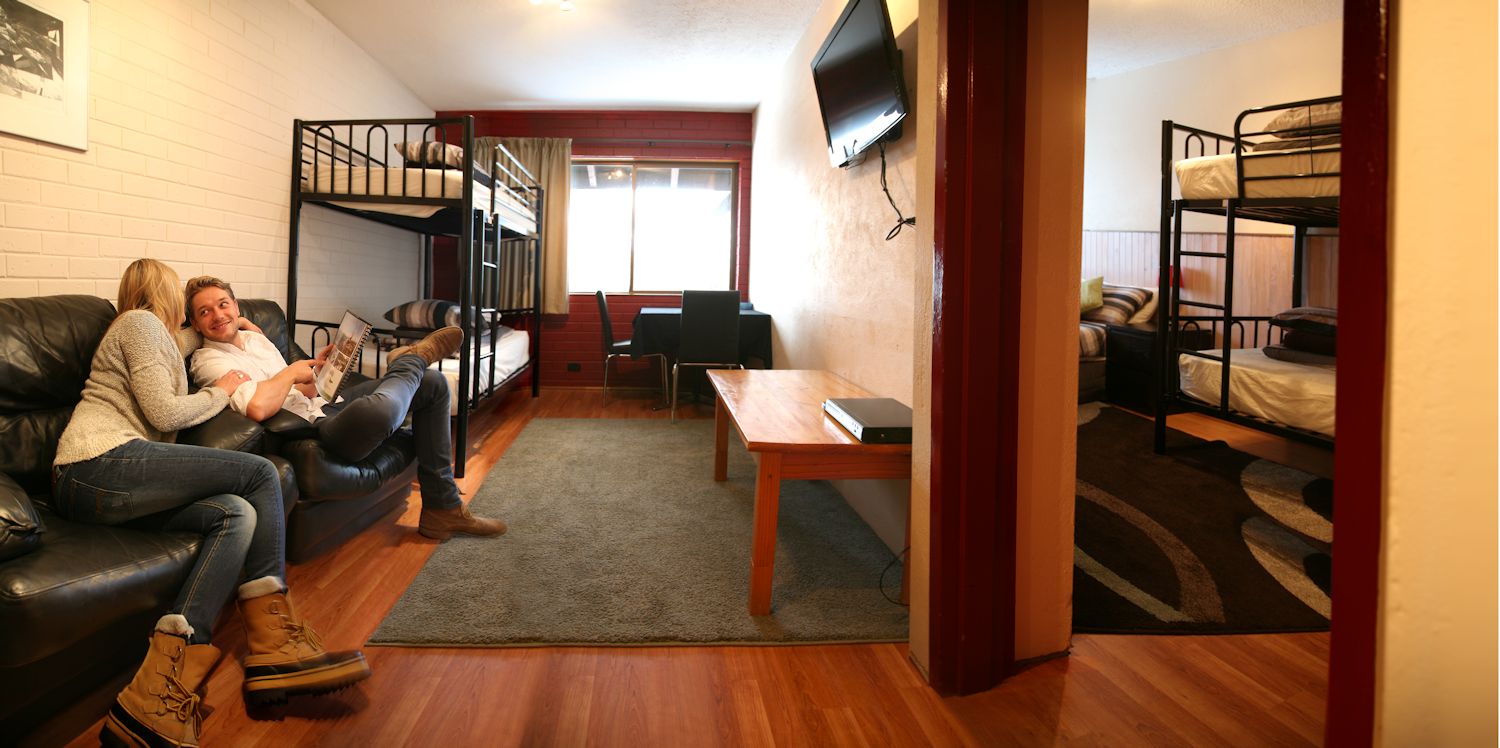 For a little extra space and the option to self-cater, choose one of our comfortable 1- or 2-bedroom apartments
Alpine room notes:
Alpine rooms are one single room with ensuite shower and toilet.
They do not include cooking facilities, although microwaves can be provided on request and subject to availability.
We do not service rooms during a stay of less than a week.