In case you thought coming to the snow was complicated, you'll be pleased to hear that its not!
But there are a few things that are best to plan for in advance to help make your trip a little simpler and more straightforward. We've put together the answers to a list of Frequently Asked Questions to help you understand better what to expect and to make sure you're ready for the snow.
How are you going to get here?
Mt Buller is a village located within Victoria's Alpine National Park. Sitting at 1650m above sea level, during winter the snow that falls on the ski slopes also falls on the village and often on the car parks and the mountain road, as well.
VEHICLE ACCESS IS RESTRICTED INTO THE MT BULLER VILLAGE DURING WINTER. ALL VISITORS MUST LEAVE THEIR CARS IN THE OVERNIGHT CAR PARKS AT MIRIMBAH (BY THE RESORT ENTRY GATE) OR AT THE TOP OF THE MOUNTAIN ROAD ABOUT 3KM BEFORE THE VILLAGE CENTRE.
BE PREPARED
Bad weather, wild animals, sharp corners, snow and even gnomes are all real dangers on the steep 16km road between the Mt Buller resort entry gate and the Mt Buller resort car parks. Plan to arrive within daylight hours for the safest visit or take the MMBL bus to the village centre if you are unsure about driving on snow and ice.
THINGS TO THINK ABOUT
RESORT ENTRY FEE: As with most National Parks in Australia, there is a resort entry fee to pay at the Mt Buller Resort Entry Gate which allows you entry into the resort for the duration of your trip. BOOK EARLY AND SAVE!
SNOW CHAINS: All cars accessing the overnight car parks at the entrance to the village must carry snow chains by law to enable them to leave safely should it snow during your visit. Wheel chains can be hired in Mansfield or at the Mirimbah Store by the Resort Entry Gate.
FUEL: If your car takes diesel, you will need to make sure you fill up in Mansfield or Bonnie Doon with Alpine Diesel, or that you bring some additive with you to ensure that your fuel doesn't freeze in your tank, otherwise you might just find that your car won't start after a few days sitting under the snow. The last petrol station is at Mirimbah, so you will also need to make sure you have enough fuel to get up and back down the hill.
PARKING: The cost for parking your car overnight in the resort car parks varies between midweek and weekend nights and between high and low seasons. BOOK EARLY AND SAVE!
TAXIS: Since vehicles are not permitted to access the Mt Buller village, taxis are available to take you and all your bags from the car parks to your accommodation and back again. Taxi tickets can be paid for in advance and taxis can be contacted on 03 5777 6070 if one isn't waiting for you on your arrival. PLEASE NOTE THAT TAXIS HAVE SET WORKING HOURS AND ARE NOT AVAILABLE AFTER MIDNIGHT ON WEEKDAYS.
USEFUL INFORMATION FOR GETTING HERE
Our Booking Number:
03 5777 6500
Our Address:
6 Stirling Rd
Mt Buller, VIC, 3723
Australia
In an Emergency:
Lodge Phone: 0439 776500
MMBL Buses & Taxis: 03 5777 6070
Mt Buller Resort: 03 5777 6077
Mt Buller Medical Centre: 03 5777 6185
Fire: 000 / 5777 6700
Ambulance: 000 / 133 099
Police: 000 / 5775 2555
Mt Buller Towing: 0458 077 572
MT BULLER TRANSPORT OPTIONS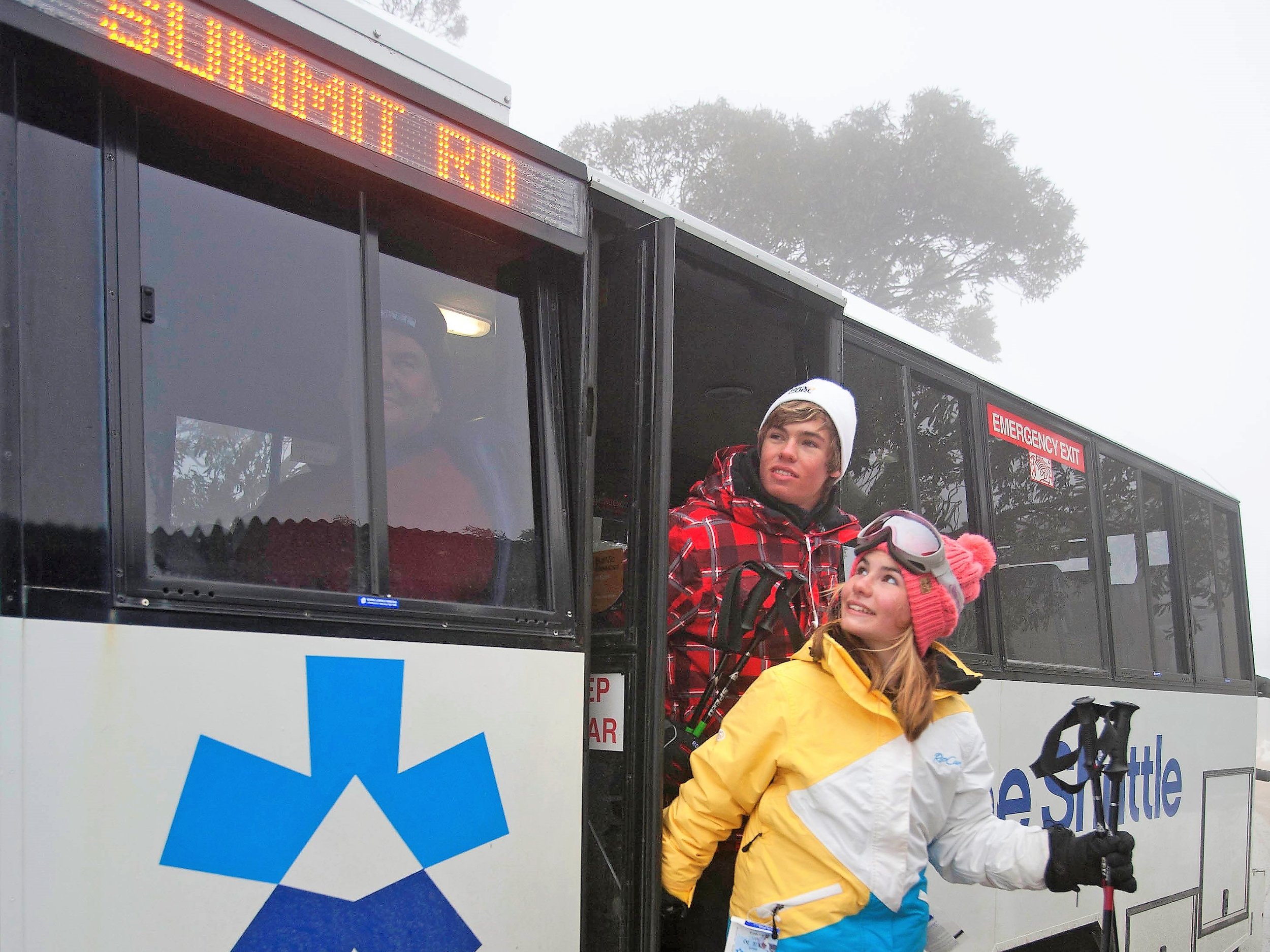 Make sure you know all you need to know about driving in the Alpine National Park and on THE snowy and icy mountain road.
Picks up in Melbourne or at Tullamarine Airport and brings you our front door, for groups of 4 (or 5 with children)
TRANSPORT IN THE MT BULLER VILLAGE
While vehicle access is restricted into the Mt Buller Alpine Village, the good news is that once you are in resort, everything is within walking distance (although, of course, some places are up hill) and there are free shuttle buses to take you around the village.
INTRA-VILLAGE SHUTTLE BUSES: run from 8am to 6pm or 10pm on Tuesdays, Thursdays and Saturdays to get you to the slopes.
Alpine Retreat Mt Buller is located on the STIRLING ROAD bus loop at STOP NO. 2.
CROSS-VILLAGE TAXIS: are available during taxi operating times to take you around the village in the evening. The cost is $9 per person up to a maximum of $18 per 10-seater taxi. Call 03 5777 6070.